Julie Nash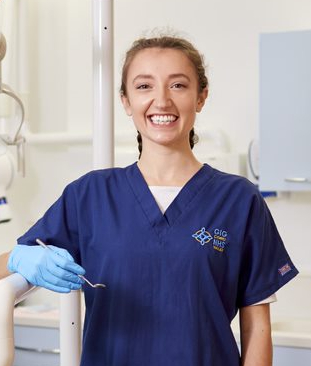 Julie was born in Cambridge, England, and moved to Cardiff, Wales at 18 to study dentistry. After 5 years she qualified with a BDS in dental surgery. Following graduation, she opted to remain in South Wales to complete her dental foundation training, and then chose to do two further years of training as a Dental Core Trainee (DCT). This included time in the Community Dental Service, where she now works full time and plans to continue her career.
She explains:
"It was an easy decision to stay in Wales following my studies. I really enjoyed living in Cardiff whilst I was a student, as it is a capital city with lots going on, but it is also easy to escape the city to places like the Brecon Beacons National Park when you want to. There is so much to do and great places to explore.
"I love working in Wales; there is a great sense of community, and everyone I have worked with wants to help one another. Within the dental community, it can feel as though everyone knows each other, which is welcome, as this creates a supportive network of people, with lots of different skills, experience and knowledge. In terms of continued professional development there are many conferences and learning opportunities held in Wales each year, which allows you to meet others within the profession, which is great.
"My career so far has been extremely rewarding as I've really found what I love to do, which is treating those with dental anxiety and additional needs. Being able to be part of a patient's journey in overcoming their fears and seeing how far they come is amazing, nothing beats the feeling that you get knowing you are making a difference to people's lives.
"I am currently writing a paper on individuals with developmental coordination disorder (DCD), otherwise known as dyspraxia - which I am passionate about. Spreading awareness is important to me, as my brother has DCD, and it is not always well understood even though up to 5-15% of the population have the condition.
"After studying and training in Cardiff, I really wanted to stay! I felt I hadn't finished exploring Wales while I was a student. I enjoy being able to live in the city with all it offers, yet being less than an hour from the seaside and mountains.
"Wales also has really welcoming dental networks - I know a lot of dental professionals here, and it is good to have a community around you that can give you advice and support, as Dentistry can be a complicated profession.
"I really enjoy living in Wales as there is so much to do when I am not working. I enjoy eating out with friends in amazing restaurants, and going walking in Snowdonia and the Brecon Beacons. There are also many historic castles to explore, lots of concerts in Cardiff and always something fun and exciting going on!"