Carlen Chandler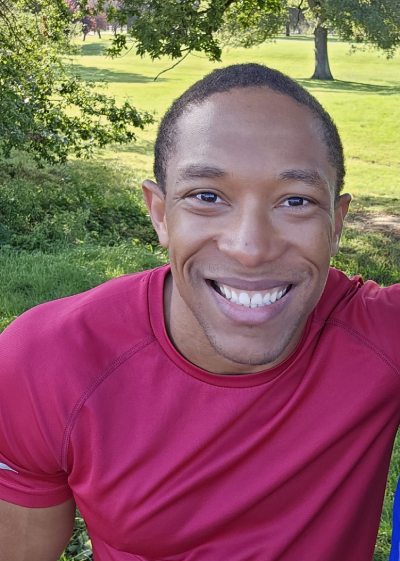 Carlen Chandler was born and raised in Trinidad and Tobago, just off the coast of Venezuela. After receiving orthodontic treatment as a teenager, combined with his love of science, Carlen knew that dentistry was the area he wanted to focus his career on.
Carlen explains:
"Although I was interested in both engineering and medicine when I was younger, I found the mix of skills required for dentistry to be more appealing. After completing my undergraduate dental degree in the University of West Indies, Trinidad and Tobago in 2011, I undertook specialist orthodontic training and a postgraduate MScD Orthodontics degree at Cardiff University in 2016. I also completed my postgraduate MSc Medical education in 2023, also at Cardiff University.
"As I enjoyed my time in Wales so much when studying here, I was inspired to pursue registration as a dentist in the UK. To achieve this, I first had to be successful in the overseas registration exam, which would enable me to register with the general dental council in the UK, before also being registered on the Orthodontic specialist list.
"The training and support I have received since moving to Wales has been exceptional. The Consultants are not only interested in your progress throughout training, but also take a genuine interest in your overall wellbeing. I have also found everyone very approachable and supportive.
"I have always enjoyed teaching and was thrilled to be able to secure a Clinical Teacher in Orthodontics post at Cardiff University, which gave me the opportunity to support students in undergraduate dental education. Cardiff University was very supportive in my career progression and gave me the opportunity to apply for NHS Wales recruitment for a ST4/5 Orthodontic Registrar post.
"Since 2021, I have been working as a part-time ST4/5 Orthodontic academic trainee with a focus on preparing for my Orthodontic Consultant exams. I also continue to support Cardiff University with clinical teaching in Orthodontics and scholarships, with plans to commence my PhD project.
"By starting my career in Trinidad and Tobago, I knew it would take a lot of perseverance, creativity, support and even luck to find myself in the position I am today. I would not be where I am without the incredible mentors who guided me along my journey.
"I have really loved working in Wales and have had posts in both the north and south of the country. Everyone has been incredibly welcoming and supportive, while demonstrating the concepts of equality, diversity and inclusion by providing a variety of opportunities and supporting my specific development needs.
"Having already built strong social connection from my time studying in Cardiff, I found the friendly city also gave me a good balance between numerous activities that only a capital city can offer, while still offering green spaces for recreation that help with mental and physical wellbeing.
"Although I wasn't aware of the country of Wales before moving here, I quickly learned to appreciate the unique Welsh history, language and identity. It's an amazing place to live, particularly if you enjoy outdoor activities such as hiking, kayaking and paddle boarding as much as I do. I have even found a Cuban salsa dancing class in Cardiff, which has given me a little taste of my Caribbean culture whenever I need a reminder of home. I find Wales a great place to both work and live. It has everything you need to excel, whist still maintaining a healthy work life balance.
"In the near future, professionally I hope to complete my PhD project and continue to help support the development of Cardiff University students and NHS trainees, while personally I hope to be living a peaceful and content life with a young family in my adopted home of Wales."