Dhimant Patel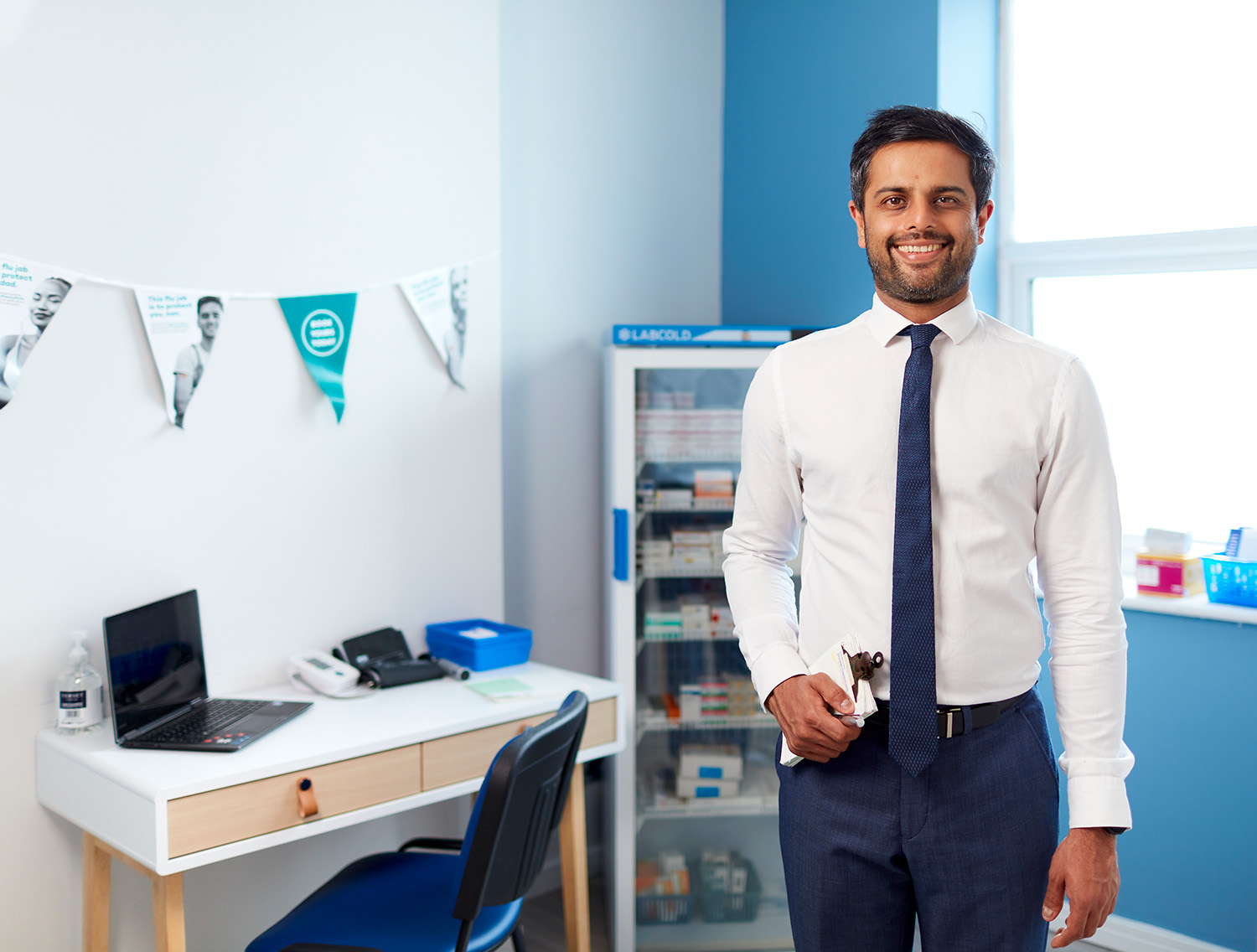 Born in Shrewsbury and brought up in Telford, Dhimant Patel spent part of his childhood in India before coming back to the UK at the age of 12. Currently, Dhimant is a superintendent at a Pharmacy in Coedpoeth, Wrexham.
With an interest in medicine from an early age, Dhimant gained work experience at a local pharmacy at the age of 13 and says he never looked back.
Dhimant explains:
"I always knew I wanted to be involved in healthcare, and thankfully a career advisor saw my interest in science and suggested a few different fields for me to explore, one of which was pharmacy.
"I completed my pharmacy degree at Aston University and then my Foundation Training year at Shrewsbury Hospital. After working as a locum to gain experience, I held a pharmacy manager role with an independent company, before moving to a popular national pharmacy.
"An opportunity then arose for me to purchase my own pharmacy and I jumped at the chance – I couldn't wait to run a pharmacy service the way I felt patients should be cared for.
"Myself and my family moved to work in our own pharmacy in 2013, after choosing Coedpoeth, Wales over a pharmacy in Lancashire, England as it was nearer to our family.
"I saw very quickly that Wales was very progressive in the pharmacy sector. It's seen huge changes over the last 15 years, and it continues to evolve. I spend less time selling over the counter medicines and checking prescriptions now as my pharmacy team are skilled in doing these tasks. The team also have the tools to check for changes made to people's regular medicines to keep them safe when they are discharged home from hospital. I currently spend my time doing all the new clinical pharmacy services. This means spending time in the consultation room diagnosing and treating urgent minor health complaints. This includes testing sore throats, prescribing for ear, chest and urine infections as well as diagnosing and treating skin conditions. There are bold plans for moving the sector forward, and although it seems quite a departure from our traditional supply roles, it appears to be a challenging but rewarding time ahead of us.
"Owning my own pharmacy has had its ups and downs, but the experience has mostly been very positive and the future is certainly interesting. We're coming up with lots of new ideas, new roles, and new opportunities – and I hope I can continue providing a good service to our patients.
"The training I have received in Wales has been nothing short of exceptional. The structure of support is fantastic, with lots of opportunities to learn and train. HEIW has a platform where you access materials to complete your accreditation for community pharmacy services, which I have found simple and intuitive. I use it to enrol myself and my staff onto on-line or face-to-face courses, including the most recent course I completed - Mental Health Awareness. Previously, I completed a centrally funded Minor Ailments course in Bangor University, to prepare for my Prescribing Course in Glyndwr University. I've always been able to seek help when needed, and the relevant people are always on hand to nudge you in the right direction.
"Now we're settled in Wales, we have no plans to move. The great thing about where we're based is that nothing seems too far away. We have the beach, lakes, forests and national parks close by. In our new hometown of Coedpoeth, we have been made very welcome and feel part of the community.
"The long-term prospects in Wales are fantastic, and I would encourage anyone looking for a role in healthcare to consider this country as a destination to study, work and live.
"Wales is a place that is very close to my heart. It is helping me to grow and develop my hobbies and interests such as paddle boarding, and I have even run a half marathon. The landscape of Wales provides picture perfect scenes for my hobbies, though my legs do not always appreciate the hills!
"Wales also has ample places to walk my dogs, enjoy the countryside or visit bustling cities. Though my favourite has always been the coast, as Wales has miles and miles of stunning beaches to explore, with plenty of wildlife to see."