Reem El-Sharkawi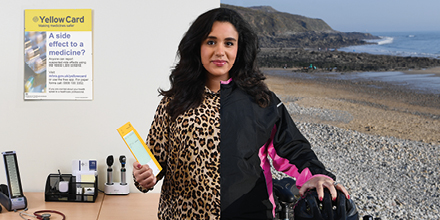 Reem was born and brought up in Swansea and completed her pharmacy degree at Reading University. After University she returned to Singleton Hospital in Swansea, for the first 5 years of her career as a hospital pharmacist. Reem then secured a role as one of Wales' first Primary Care cluster pharmacists, working to support a network of eight local GP surgeries. During Reem's time working in the primary care cluster, she completed her independent prescribing course at Cardiff University, an opportunity funded by her health board. In 2021, Reem was appointed as a Welsh Clinical Leadership fellow based in Welsh Government.
"The opportunity to work and live in Swansea and Cardiff, close to family and friends, supported by dynamic teams in all the sectors I have worked in, being surrounded by stunning coastal scenery, makes being a pharmacist in Wales an easy choice.  
"I have had the pleasure of working alongside pharmacists, pharmacy technicians, doctors, nurses, healthcare assistants and many others, who originate from across the UK and beyond.
"Working in both GP surgeries and hospital pharmacy, allowed me to really expand my clinical knowledge while treating patients and provided opportunities to be involved in many service improvement projects. 
"In my most recent role as Welsh Clinical Leadership Fellow, I am drawing on all my experience to help develop community pharmacy independent prescribing services. With the drastic shift in services being offered to patients in community pharmacy in Wales, the role of the pharmacist, and the wider pharmacy team, is dramatically changing. I truly believe the future of pharmacy in Wales is very exciting!  
"But it's not all hard work and no play. I'm a huge Swansea City football fan and love going to home games on the weekend with my dad. Being able to watch live football on my doorstep is a real bonus. In fact, I often bump into other healthcare colleagues, both retired and still working, at the games, which just goes to show what a sociable network we have here in Wales. There's also a vibrant social scene with plenty of food, drink, and music festivals year-round. As well as plenty of running and cycling routes to enjoy, along the beautiful seafront which I enjoy with my family. 
"Are you looking for a rewarding job with welcoming, supportive colleagues and to live in friendly communities? Wales has something for everyone, why wouldn't you want to train, work and live here?"