Sam Macdonald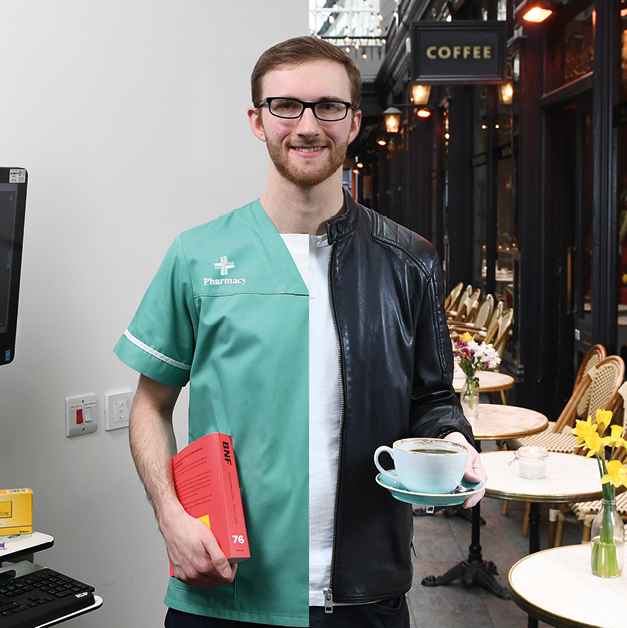 Sam Macdonald is a primary care pharmacist working in South Wales. A graduate from Brighton university, Sam came back home to benefit from the new 'multi-sector' foundation training programme for trainee pharmacists and to begin his career. Following this, Sam completed a programme of development for newly registered pharmacists which was in the form of a multisector postgraduate diploma at the time. He has since completed his independent prescribing qualification, and currently works as a practice-based pharmacist. Sam's next career move is already in the pipeline - he has just secured a much sought after, Welsh Clinical Leadership Training Fellowship (WCLTF), during which he will take part in major projects shaping the future of pharmacy.
Sam explains why he always planned to return to Wales:
"I moved away to Brighton University, to study for my pharmacy degree, as it was an opportunity to discover a new city. I loved Brighton and thoroughly enjoyed my university experience there. However, I was pleased to come back to Cardiff with my MPharm and excited to start a career here in Wales.
"During my year as a trainee pharmacist in Wales, my timetable was split between hospital, community and a GP practice and I had joint educational supervisors in both hospital and community pharmacy. I had a wide variety of unique learning opportunities, in every sector, in supportive environments that encouraged learning and development.
"Before the end of my foundation training year, I had secured my first pharmacist post in a neighbouring Health Board, a 2-year multi-sector post. At the time, I was unsure what direction I wanted to head in, but the beauty of the post was that I continued to have clinical opportunities to manage medicines in GP surgeries and acute hospital environments.
"There are so many perks to training and working in Wales. Trainee pharmacists receive high quality support from the educational supervisors, and the training programme is flexible and structured, ensuring that we gain multi-sector experience, which includes working together with many different professionals.
"As part of the new GPhC Initial Education and Training Standards for pharmacists, post registration opportunities for newly registered pharmacists are available in Wales. These are funded by Welsh Government, through Health Education and Improvement Wales (HEIW) and supported by employers — I feel confident that I've received support that I may not have had in other parts of the UK.
"The foundation training programme and post registration training opportunities, provided the all-round experience that enabled me to get a job as a cluster pharmacist, working in Caerphilly in the county of Gwent. As part of this role, I work with a team of pharmacists, providing support across a primary care cluster which includes seven GP practices and primary care services in the area. My responsibilities typically include reviewing patients on multiple medications, making changes to improve their conditions and quality of life, as well as undertaking appropriate monitoring. It's a fantastic opportunity to work with other professionals, alongside support from senior pharmacists and GPs.
"As part of this job, I was also able to receive HEIW funding to train as an independent prescriber. This has taught me how to perform physical examinations on patients and allowed me to prescribe medications in a specialist clinical area. I completed my prescribing course in anti-coagulation for atrial fibrillation and currently prescribe in this area.
"Since completing my independent prescribing, I have also began working independently for one of the practices in my cluster. This has allowed me to expand my prescribing scope of practice and take on additional responsibilities, including running my own minor illness clinic. I currently split my time working independently for this practice, as well as working as part of the larger team of pharmacists in the cluster, providing great variety to my working week.
"I have also been lucky enough to gain additional employment as a clinical lead for NHS 111 where I currently lead a team of pharmacists covering South East Wales. In 111 Pharmacists work as part of a team alongside GPs and nurses to triage and treat illnesses over the phone and in person, during the out of hours periods of the week. This has allowed me to develop additional skills in leadership, telephone consultations and managing acute illness and has been a rewarding experience, to help patients during the hours they are unable to access their own GP.
"Since the COVID-19 pandemic, as part of my cluster role, I have been able to provide vital support to the vaccination programme. I, along with other cluster pharmacists in my Health Board, have been part of the team staffing the mass vaccination centres. I have had a number of responsibilities since the programme began, from vaccinating patients, to managing the preparation and storage of the various vaccines in use. I have been incredibly proud to have had the opportunity to support the NHS throughout the pandemic and grateful to have a role that has allowed me to be a part of this.
"I have recently been accepted to start a secondment from my current roles, in which I will join the Welsh Clinical Leadership Training Fellowship (WCLTF) programme for the next year. This role involves working closely with Health Education Improvement Wales (HEIW) and Welsh Government and will provide great opportunities to develop my skills as a leader and be a part of major projects that will shape the future of Pharmacy and the wider NHS in Wales. I am very much looking forward to the opportunity.
"Over the last few years, I have been given a huge amount of opportunity and feel the training programmes for pharmacists in Wales have provided me with an amazing start to my career. I'm lucky enough to work sociable hours and have plenty of time to relax and focus on doing the things I love, whether it's taking in the amazing sights on a run or exploring new restaurants and enjoying the café culture in the city. Everything is on the doorstep here in Cardiff! Coming to South Wales was one of the best decisions I made for my career, and now that I'm here, I can't ever imagine leaving."